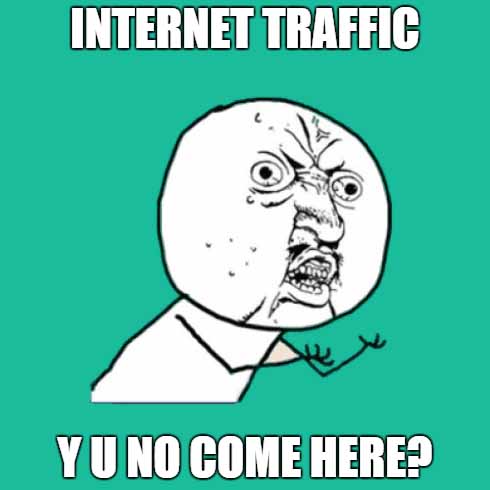 Copywriting is the art of writing unique and original content. New clients often come to us wondering why they do not get more internet traffic. Their site looks good and has pages of great content, but Y U NO COME HERE?
However, the content is just copied and pasted from another site. Often, they paid someone to write the content, and only to find it is all duplicate content from other sites. This duplicate content is sometimes cited and sometimes just blatantly plagiarized from other sites. Google and other search engines have to make a decision about the content on your site and how to rank it in the search results. If the substantive portion of your content is copied from another site, should the search engines display your site or the original site when someone is searching for that topic? It will be the other site. Yes, the search engines do know the original source.
The purpose of the content is to engage your visitors in a way that is informative and appealing for your demographic. The content will help your visitors spend more time on your site helping to build trust in your brand and increasing the likelihood of leading to a customer. The search engines also track time on site. Google Analytics, for example, will display how much time someone is spending on your site and what pages they visit. If your visitors are spending more time on your site, then the search engines gain more confidence that the keywords they are using to find your site are appropriate. Thus, your rankings will improve.
Once Entangle Media writers help develop new content for your site; other sites will copy and paste your content for their sites and this is where the copyrights helps protect you. If they are not citing your website, or you do not want your content to be on another site, the Entangle Media copywriting team will take action to make sure that your content is removed from their site. There are millions of internet websites that are fully automated and use content from other sites, a process called "scraping", to create their websites and populate it with content. Because it is highly prevalent, the chances are very good your content will end up on other websites. The reason is the practice of duplicating content is the same reason you may have some on your site: it is time consuming and expensive to create unique content. Often it adds double or more to the price of a site, and it's a continuous effort and cost. If you are going to take the effort to create good original content, then it is the copyright laws that help protect it.
The saying "Content is King" is true, but it needs to be your content.