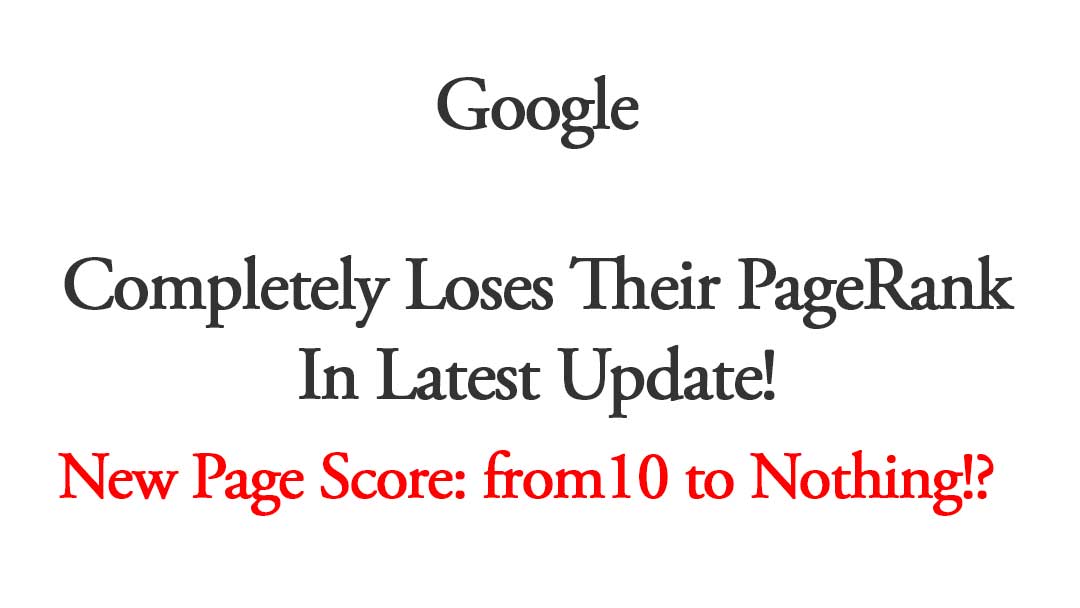 Google announced that it is no longer is displaying PageRank scores. This is a score from 0 to 10 that Google gave every web page to determine its authority.  The only users that might noticed it being gone are people that are in the SEO business.  However, SEO experts have known for years not to trust Google PageRank.  Google insisted that it was keeping PageRank for the last few years because that normal users still largely use it as a gauge for the quality of a site.
The only possible case PageRank was still being relevant for normal users was to compare a site displayed from the organic results to a site that was viewed from an ad. Maybe this stemmed from Google's guilt that it  is often hard to distinguish between an organic search result and a paid ad.  PageRank  would give the user an extra metric when comparing web pages.   The fact is, no  normal users paid attention to PageRank, so let's get to the real reason of why Google no longer displays PageRank.
PageRank scores were used in the SEO industry to determine the recipe of acquiring and placing  backlinks on websites in order to improve the search positions of targeted sites. There  is a whole industry of people that build networks of websites,  call publishers,   whose purpose is to make money off of ads and backlinks. The price of placing  backlinks was often determined on the Google PageRank score. Those of us that have studied SEO tactics have known for a few years that PageRank was becoming increasingly untrustworthy and that there must be other uses for PageRank.
The only rational reason  for displaying a PageRank score was to identify spammers and sites that were actively engaged an SEO tactics. Google knew that when they would update their algorithm that sites engaged in SEO tactics would have more drastic changes in PageRank scores.  Changes either on their site or from the sites backlinking to them.  Google could have used  PageRank changes internally,  but they must not have totally trusted their algorithm.   The best reason for keeping PageRank visible, was a way to bait and confirm manipulative SEO tactics.
Let's take the example of 2 websites that have 100 backlinks. Google changes the page score from 5 to 1 for both of those sites.  If you are a sight that has natural backlinks and do not engage in link tactics then there is not much you could or would do as an immediate reaction.  However, the other site that was engaged in linking, would notice that the PageRank dropped, and the natural reaction was to replenish the "link juice"  as it is known in the industry. Since natural backlinks are difficult to acquire naturally, Google could use any abnormal reaction to a page rank change as confirmation  that the website was trying to manipulate their sites authority.
The interesting piece for those of us that studied PageRank,  was that Google seem to bait SEO tactics by  both raising and lowering the page rank. or they would have a majority of PageRank changes that were real, mixed  with artificial PageRank scores. Once SEO experts started to  distrust PageRank scores,  they started using other metrics to determine the value of sites in their SEO campaigns. The vast majority of the people do not understand SEO, and the PageRank score has been a highly effective tool in their fight against spam site authority manipulation.
Google must be at a place where are they can finally trust their internal metrics about identifying SEO spam techniques.  Therefore,  displaying PageRank is no longer needed as a spam tool.  Don't be sad, they still use it internally, but not just for pages.