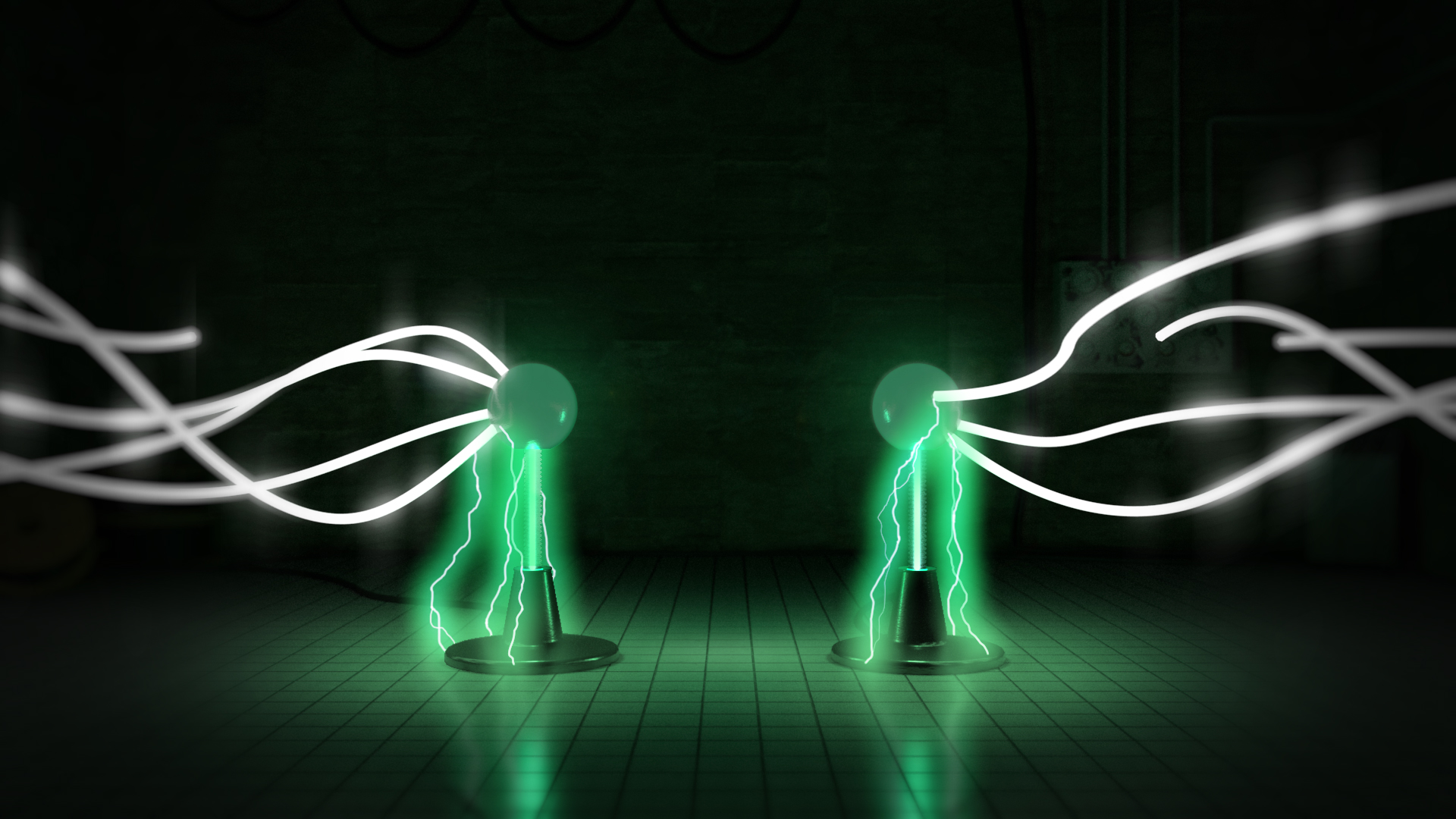 In 2018 I wanted to come up with a new intro animation for Entangle Media that was more cinematic than our previous one. Whenever I'm coming up with a logo animation I try to imagine what motion might be suggested by the design of the logo. In the case of the Entangle Media logo, we have as an icon a series of two interlocking arcs, reminiscent of two wifi signal icons pointed at each other. So I thought, "What could these two signals be transmitting from that would look cool?" Tesla coils fit the bill. Going with a mad scientist vibe, I modeled up a pair of Tesla coils that Dr. Frankenstein would be proud of, complete with glass insulators and neon accents. Next, to visualize the entangling of media, I animated multiple glowing strings attaching themselves to the coils before they finally transmit their green arcs resulting in an explosion of light revealing the Entangle Media logo. Throw in some green electrical arcing and lighting and sound effects, and we had ourselves an intro that would look at home at the beginning of a movie.
with most things I create, after about a year I got the itch to update it. While I like the logo at the end being on a flat black background, I wasn't so happy about the tesla coils being on a black background. I wanted to fill in more of the mad scientist laboratory so in Maya I modeled in walls and various props and tweaked the lighting to illuminate it all.
After rendering the scene it was time re-work the lighting effects in Adobe After Effects.The original version had spheres of glowing light moving down the length of the strings attaching to the Tesla coils that looked good but was a little too subtle. I increased the intensity and added a substantial vertical blur. The crackling sound of the electrical arcs was a bit too loud so I reduced them and added the sound of a starting turbine played at 4x speed.
As you can see, the end result feels more filled-out and polished.